After the crazy weather that we've had up in here in Indy last week with the thunderstorms and tornadoes, we finally got the chance to get back out on Eagle Creek to row on some beautiful water! The storms did wash some logs and small debris into the reservoir, but luckily it was nothing we couldn't handle.
Our novice rowers were taken out in the barge. It's a large practically unsinkable boat that allows our new rowers to take some strokes on the water without having to worry about the possibility of flipping the boat and ending up in the water. Coach Stephen was impressed with the improvement our new rowers made during their first practice and is looking forward to putting them all in their first racing shell.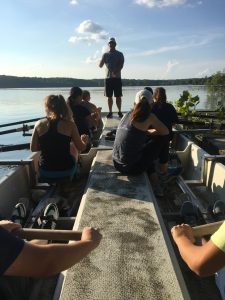 It was a productive day for our varsity rowers as well. They took out a black quad which, for those who are unfamiliar, is a four-person boat that requires each of the rowers to use sculling oars (one for each hand) and does not have a coxswain to steer. It is up to the members of the boat to steer and for the person sitting in bow-seat to direct the rowers and offer motivation and corrections. The boat that our varsity members were in also had a foot-steering mechanism located on the foot-stretchers of stroke-seat which helped Maggie Jensen improve her steering skills as well. Overall, it was an excellent exercise in teamwork and, just like the novice rowers, practice helped them hone new skills and become better rowers.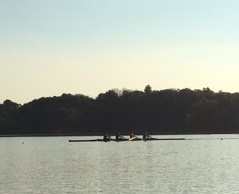 Row Dawgs!
Follow us on Twitter and Instagram and Like our Facebook page.
Save