Welcome to one of the most challenging, exciting, and driven team sports that college can offer:
ROWING
Myth: You need to have prior rowing experience to join the team.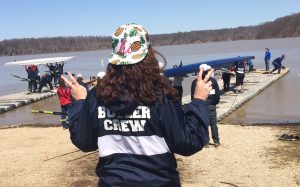 Fact: The majority of our rowers started out knowing nothing about the sport. Our coaches and varsity members do a great job teaching novices everything from de-rigging to catch positions. We welcome everyone at any level.
Myth: Rowing is too much of a commitment to be involved in other student organizations.
Fact: Most of our team are involved in other extracurriculars like: Sororities, SGA, Pharmacy fraternities, volunteering at nonprofits (e.g. Timmy Global Health), etc.
Recruitment Process
Everyone is welcome to join and participate, we do not make any cuts!!
New rowers will have a two week trial period before officially committing to the team. After two weeks, please let our president know whether you are committed for the season. This way we can begin building a dedicated and competitive team.
We typically start the trial periods 1-2 weeks after Block Party in the Fall and Spring. If you signed up at our information table, you will get an email from our President about practice times, rides, what to wear, etc.
For more information, please email: clubsports@butler.edu