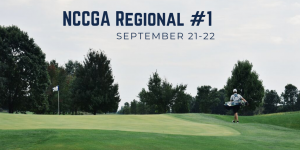 That's a wrap! Butler Club Golf completed our first fall 2019 tournament at the Harrison Hills Country Club in Attica, IN. On both days the team battled formidable wind but was able to rise against the challenges it brought on the course.
Butler A was very close to securing a podium spot, only 1 stroke behind Notre Dame's team by Sunday. In the end, Butler A finished in fourth and Butler B finished in 6th place.
Overall, the NCCGA Regional Tournament 1 was a great beginning to this fall season that leaves room to grow stronger as a team. Moving forward, it's time to continue improving to get ready for our next Tournament on October 6th at Blackthorn Country Club.
There were great scores out of the clubhouse by many Butler players this weekend. Here's a few players who had fantastic rounds:
Player Spotlight:
Jacob Valdick

Ben Otto

Josh Mullenix

Michael Bugyis:
Tune in a week to see updates from the NCCGA Regional Tournament #2!