Name: Sean O'Reilly
Number: 34
Grade: Junior
Major: Marketing
Hometown: Chicago, IL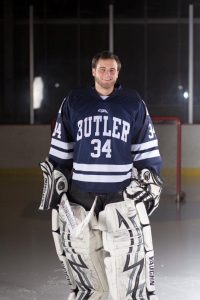 Q: How would you describe your playing style?
A: As a goalie, there are two basic styles of play, stand-up and butterfly. I like to think I would definitely categorize myself as butterfly goalie with a pretty quick glove.
Q: If you had to pick an NHL'er that you resemble on the ice, who would it be?
A: I wish I could say I look like Martin Brodeur, but he had a way more old school style of play. If I had to pick a new school goaltender I would say Ryan Miller because of our ability to use size and flexibility to our advantage.
Q: How long have you been playing hockey?
A: I started skating when I was three and began playing goalie full time when I was 7.
Q: Favorite hockey memory?
A: My favorite hockey memory was when I was a bantam my team and I traveled to Wisconsin for a tournament with teams in the division above us. We won the whole thing after a 4 round shootout after only allowing two goals on 50+ shots. It was an amazing team effort and bonding experience.
Q: Favorite Butler Hockey memory?
A: My favorite Butler hockey memory is looking back on our first game against the University of Kentucky. We didn't even have jerseys and barely knew each other's names but everyone was so optimistic and excited to play competitively again. The team has come so far since then.
Q: Pregame meal/routine?
A: I'm not sure it's a routine as much as a superstitious quirk but whenever I get my gear on I always put my left skate on first then right, and the same with my pads.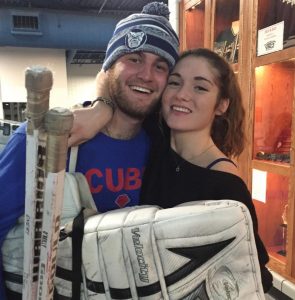 Q: Favorite goal celebration?
A: I've always wanted to score a goal but have only had an empty net chance twice and I've missed both times. If I ever did I imagine I'd try to convince the other team and the referees to just end the game out on the account of rarity.