After starting the season with 3 losses, the Butler Hockey opened their home schedule with an exciting 6-5 overtime win against the Eastern Kentucky Colonels (Division 2).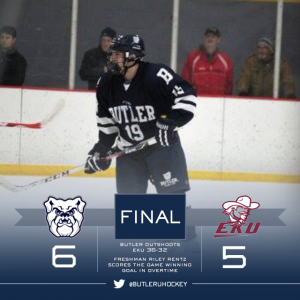 4 different players scored for the Bulldogs, which include 2 goals from senior Kyle Kortebein and junior Chris Smith. Sophomore Joey Gurgone notched his first of the season, and freshman forward Riley Rentz found the back of the net for the first time in his collegiate career in an overtime goal. Ryan Barrett (2), Joey Gurgone (2), Robert Campbell, Kyle Kortebein, and Chris Smith all notched assists in the game. Rentz's OT goal was unassisted.
The Bulldogs take the next weekend off but are back at home on November 4th and 5th with two games against the Notre Dame Fighting Irish.