*Fall 2017: Mid-Semester Update*
Butler's Men's Volleyball Team is up and running for the 2017-2018 academic year. The team has brought on 3 new players and 4 practice players to go along with 12 returning players. There's a lot of energy on the practice court as we gear up for a busy semester. We plan on playing 16-18 matches during the fall semester and compete at Nationals in the spring.
Dawgs are off to a fast start this year. With 8 matches already in the books, the Dawgs are 6-2 on the year. The team has already exceeded their win total from all of last year (4) with two more tournaments remaining in the fall semester. Here's a quick rundown of our matches so far:
Scrimmage vs. Ball State (W) (1-0): 25-16, 25-10. The Dawgs beat Ball State soundly in 2 sets. The team was a little rusty in the beginning but tough serving powered the Dawgs to their first win of the year.
Tournament at Illinois State (3rd)
-Dawgs vs. Bradley (W) (2-0): 17-25, 25-14. The Dawgs came out really slow against Bradley but were able to turn things around in the second set and beat Bradley to start off the ISU tournament.
-Dawgs vs. Indiana State 2's (W) (3-0): 25-13, 25-16. Everyone got in on the action as the Dawgs took down Indiana State's 2's in 2 sets.
-Dawgs vs. SIUE (W) (4-0): 25-10, 25-16. SIU Edwardsville had a few big hitters but the Dawgs were able to prevail in 2 sets.
-Dawgs vs. Illinois State Alumni (L): (4-1) 24-26, 15-25. ISU Alumni team was big and tough. The Dawgs kept things interesting in set 1 but the alumni were too much to handle in set 2.
-*Quarterfinals* Dawgs vs. Western Michigan (W): (5-1) 25-22. In a 1 set playoff with Western Michigan, the Dawgs beat Western Michigan in a close, high-energy match.
-*Semifinals* Dawgs vs. Illinois State Alumni (L): (5-2) 16-25, 25-22, 12-15. The Dawgs got one last crack at the alumni team in the semifinals. After a rough first set, the Dawgs started to figure things out. The Dawgs were the only team to steal a set from the ISU Alumni team all day. The Dawgs ultimately fell on the losing side of a tight third set.
Scrimmage vs. IUPUI (W): Forfeit (6-2). IUPUI has been on the calendar since we played them last March. When setting things up for our match this semester. We were told that they don't have a team this year. So yes, we are counting that as a win.
The Dawgs are looking forward to our next two tournaments. We'll will be at Northern Illinois University on Saturday, November 4th and Purdue University on Saturday, December 2nd and Sunday, December 3rd. More details about those tournaments will be made available as soon as we have them.
A successful first half of the fall semester merits two thumbs up from our President!
–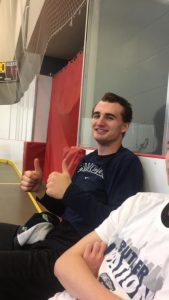 Be sure to follow us on social media for more updates throughout the year!
Facebook: Butler University Men's Volleyball Club
Twitter: BU Men's Volleyball