Butler picked up its first win of the season in a 7-6 shootout thriller over Ball State.
The Dawgs came out flying scoring two goals early from Jack Becker and Brady Murphy within the first four minutes. Ball State clawed back and tied the game at two heading into the first intermission.
Butler again came out fast and put up four unanswered goals early in the second period with goals from Jack Becker, Hunter Byram, Jesse Longtin, and Ben Otto. Ball State scored a late goal to cut the lead to 6-3, but Butler dominated the majority of the period.
The Dawgs came out in the third period thinking they could coast to a victory. They were wrong. Ball State scored three goals in a three minute span to tie the game up. Both teams traded chances back and forth for the remainder of the period including multiple posts being hit from both sides. No more goals were scored so the game headed to overtime.
Both teams had power plays in overtime but both goalies stood tall and the game was to be decided in a shootout. Jesse Longtin and Hunter Byram went for Butler and were stopped. Ryan Dyball stopped both Ball State attempts in net. Freshman Brady Murphy was Butler's final shooter and he finally broke the stalemate with his shootout goal. Ryan Dyball stopped the final Ball State shooter and picked up his first collegiate win and Butler's first win of the year.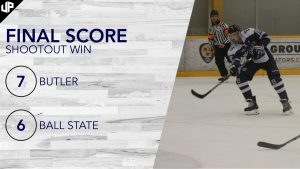 The Dawgs will play Ball State again today at 3:40 PM at the Pop Warner Youth Pavilion. Senior goaltender Jack Sigman will likely be making his first start of the year in net for Butler.