Butler picks up another victory in league play in their 4-3 OT win today.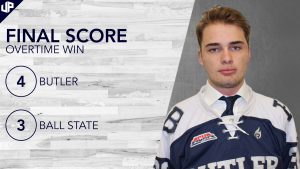 Butler started fast again with Will Reichart picking up his first career collegiate goal. The score remained at 1-0 until midway through the second when the Dawgs scored twice from Brady Murphy and Ben Otto. Goaltender Jack Sigman kept Ball State at bay with some incredible saves until they finally beat him late in the second period to make it 3-1.
The Dawgs again failed to keep their third period lead as Ball State scored twice to tie the game up late in the third. The teams would again head to overtime. After a number of chances from both sides, Butler's Will Reichart broke away from the defenseman and got a breakaway. He was hooked but still was able to deposit the puck in the back of the net to give Butler their second straight win.
Butler returns to play on October 20th versus University of Indianapolis at 9:40 PM.