The Butler Bulldogs pick up up their third straight win in OT with a 3-2 win over University of Indianapolis on Friday.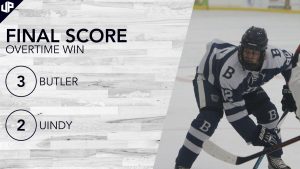 The game started off slow with both teams testing each other out in their first game ever played against each other. No goals were scored in the first period with the Dawgs out shooting Indy 15-6. Both goaltenders stood tall again in the second before Indy was finally able to solve senior goaltender Jack Sigman to take the lead going into the second intermission.
Butler came out fast in the third with Jesse Longtin scoring a goal three minutes into the period. Less than six minutes later Hunter Byram scored on a 2-1 rush on a beautiful cross crease pass from Eric Gentry. Butler held the majority of the possession for the remainder of the period until a late Butler penalty led to a Greyhound goal with three minutes left. For the third straight game, the Dawgs blew a late third period lead despite out shooting their opponent by over 30 shots.
Overtime began with both teams trading blows back and forth. The game finally ended on a 2 on 1 in the corner led by captain Noah Brayton. Brayton fed the puck to forward Ryan Barrett in front of the net, and Barrett was able to deflect the puck into the net despite being cross checked to the ice. This was Barrett's first goal of the season, and extended Butler's win streak to three.
The Dawgs next games will be a rematch against University of Indianapolis next week at 9:40 PM on Friday and 3:40 PM on Saturday and the Pop Weaver Youth Pavilion.