The Butler Bulldogs will honor 4 seniors, Ryan Barrett, Jack Becker, Jesse Longtin, and Jake Vance, on Sunday February 9th against the Purdue Boilermakers. They will be the first group to play for the Bulldogs in all four years since its return to Butler.
Ryan Barrett came to Butler from a suburb outside of Nashville, Tennessee. He is graduating with a Sports Media Major with a Minor in Marketing. When asked about his time with Butler Hockey, he said:
"It's honestly going to take me a while to get used to not playing hockey anymore. It's been in my life for over 15 years now and it'll be weird without it. My favorite hockey memory was definitely the 8 a.m. Saturday morning workouts freshmen year. It wasn't fun at the time but it is where all of bonded even more than on the ice."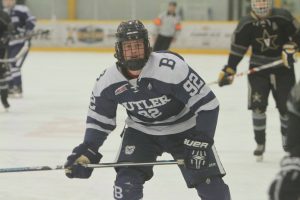 Barrett is looking Nashville or Indianapolis for jobs in digital marketing and hopes to coach wherever he goes.
Jack Becker came to Butler from Eden Prairie, Minnesota and said he had no intention of playing hockey in college originally. He joined the team a month into the 2016 season and said it was one of the best decisions he has made. He held the position of club president during his sophomore and junior seasons helping stabilize the new program financially and in the ACHA. He is very thankful for the friends and memories he made. He will graduate in May with a degree in Marketing and plans to work in Indianapolis or back home in Minnesota.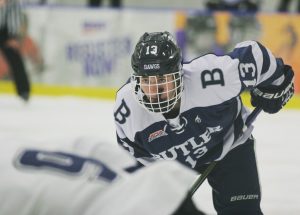 Jesse Longtin came to Butler from Kankakee, Illinois a small town outside of Chicago. Longtin has been the captain of the team for the past seasons. When asked about his experience with Butler hockey, he said:
"It's crazy to think that hockey, what has been a part of my life for as long as I can remember, is wrapping up. I only have a few competitive games left until I'm done for good. A surreal feeling to say the least. I am so blessed that my parents got me into the game when I was young. It has been something I relied on as a stress reliever, energy booster, and friend gainer. I'll cherish the memories I've had and friends I've made throughout the years for the rest of my life. I am beyond grateful that I had the opportunity to play in college where I continued playing the sport I love. In the end, I am happy to say that my last time suiting up will be with a Butler Bulldog on the front of the sweater."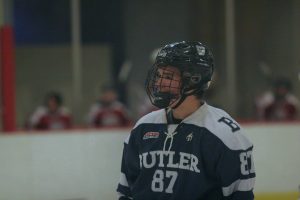 After graduation, Longtin plans to head to Chicago to work in the finance industry and play pickup hockey from time to time.
Jake Vance came to Butler from Springfield, Illinois. He is graduating with an Actuarial Science and Statistics double major. Vance's favorite moment from Butler hockey was when long-time defensive partner Will Huyler scored his first collegiate goal and then added two more for a hat trick. The Butler hockey team will always remember Vance's tendency to lose pucks by flipping them into the ceiling during warmups. Vance wants to work in sports analytics for any sports team after graduation.