INDIANAPOLIS – The Men's Volleyball Club at Butler University will be hosting a Halloween Showcase on Oct. 20 with games running from 9:00 a.m. – 4:00 p.m. at the HRC. Admission is free.
This Halloween showcase will be an eight-team tournament with two pools of four teams. Each team will play all the other teams in their respective pool and then play the other brackets resulting from the previous games.
Some of the competing teams in the tournament will include Ball State, Indiana State, Southern Illinois, Ferris State, and Butler's own teams divided into teams A and B. The club is hoping to make the Halloween Showcase an annual event.
The Butler team is eager to play in their first tournament of the season. Club President Sam Burton says, "I'm excited for an opportunity to play at home in front of some friends and family against teams we don't get to play too often. It will be a great warm-up and team bonding opportunity for our guys." They are expecting to go to nationals again this year and win.
If anyone is interested in joining the club next season contact Sam Burton. Below is a tentative schedule for the season.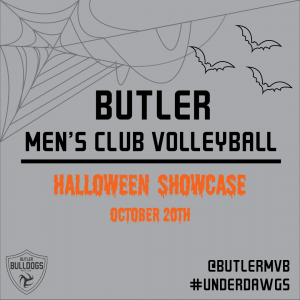 Oct. 20 Bulldog Halloween Showcase
Nov. 3-4 Bradley University Tournament
Nov. 10 Ball State Tournament
Dec. 3-4 Purdue Tournament
About Men's Volleyball Club
Butler University's Men's Volleyball Club is a student-run organization playing in tournaments across the Midwest and committed to the promotion of men's volleyball in local high schools. Members coach teams, host clinics and invite highschools to watch a game or practice. In the spring of 2018, they returned from Nationals in St. Louis having won the Division II silver bracket, finishing the season with a 32-16 record. This year's team consists of 21 members with a board including President Sam Burton, Vice President Trevor Tokarek, Treasurer Lukas Harkins and Secretary Nate "Randall" Kelch.
Written by Caroline Elmer '22