What has Butler Ultimate been up to? Well I'll tell you right now: we're revolutionizing the sport of Ultimate Frisbee on Butler's campus.
Are we using new equipment? New fields? Going to new tournaments? I answer yes to all of them, but that's not how we are changing our image. What we have had to do is take a few steps backwards in order for giant steps forward to be possible.
After getting in contact with Nate, a Butler staff member who plays extensively with club teams in the Indianapolis area, he agreed to get a few of his buddies and come out to run a practice. It was a great moment. Not only were the freshmen learning basics that had slipped through the cracks, but the older players were learning just as much. I was corrected twice as much as I expected to and half as much as I wanted to.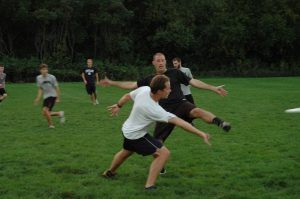 These practices signal a change from playing casual games of pick-up into a more serious look into the mechanics of the game. As long as the weather remains above freezing and the it doesn't get too dark out, we hope to have as many similar practices in the future.