Women's Club Lacrosse is starting something new this year called player of the month! This is a way in which the Butler community will be able to get to know the members of our team better as well recognizing individual achievements. For the month of October we want to congratulate….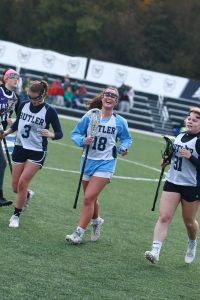 KASEY DIODATI
Kasey is a sophomore CSD and psychology major who has been playing lacrosse since third grade. The reason why she loves lacrosse is because, "It gives me a chance to chance to play a sport with girls who feel passionate about it too, and gives me the chance to compete against great players." During the game against Taylor University, Kasey helped our team achieve victory by scoring 4 goals, 1 assist, 5 ground ball controls, and 4 draw controls. WOW! Kasey's favorite moment from the game was at half time where, "I never experienced such positive girls on and off the field which felt amazing." In the upcoming spring season Kasey looks forward watching our team grown and hopefully get more wins as well.
Thank you Kasey for being such a great addition to the team!