Welcome to the official page for Butler University Equestrian! The Butler University Club Equestrian Team (BUCE) is a recognized club sport at Butler University. Our team consists of members of all riding abilities in the hunt seat discipline. BUCE is a great opportunity for students to continue riding, improve their ability, and compete while attending Butler University.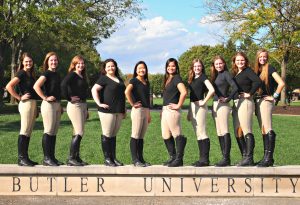 Team members who are interested have the opportunity to compete in shows. BUCE participates in shows within the Intercollegiate Horse Show Association (IHSA), competing in Zone 7, Region 1 against other local colleges. There are about 5 shows a semester that BUCE members show in to gather points towards qualifying for Regionals, which are held at the end of the spring semester. From Regionals, riders can then move on to Zones, and then to Nationals, which gathers the top riders at all levels from each Zone to compete for a national title.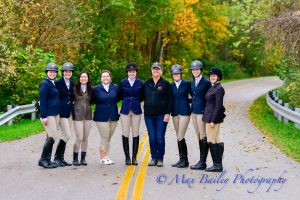 BUCE practices at a local hunter/jumper barn about 30 minutes north of campus. The riders are coached by Emily Ahlfeld at Sierra Woods Farm which is located in Zionsville, Indiana. Practice frequency is based on the team member's availability and how often they would like to ride. In order to be considered an active member of BUCE, we ask that members take a minimum of one lesson a month. Most riders take lessons at least once a week.