Frequently Asked Questions
Feel free to contact our president, Erin Cummins, at ecummins@butler.edu with any questions or for further information.
Who can join?
Anyone! BUCE has members of all abilities, including beginners and those who have never sat on a horse before to those that have ridden their entire life. You don't even have to have any experience riding hunt seat!
Do I need a car to get to get to the barn?
NO! If you don't have a car on campus, then someone with a car that rides around the same time as you will drive you to and from the barn.
Do I need my own horse?
Not at all. The barn that BUCE rides at has lesson horses for our use. In addition, personally-owned horses are not permitted to be used in IHSA shows.
I want to bring my horse to school with me. Where can I keep him?
While personal horses are not allowed to be entered into IHSA shows, there is room at the barn where BUCE trains. Contact the club for more information.
How much does it cost?
-Team Dues are currently set at $120/year or $60/semester.
-Lesson packages are currently $450 per semester, covering 7-10 lessons. You must purchase one lesson package a semester.
-IHSA shows are free! All class fees, gas, and hotel costs will be reimbursed to you.
-Apparel costs vary depending on the item. You are required to have your own show clothes and a team jacket if you decide to show. Everyone who rides is required to have boots that have a heel.
Do I have to show?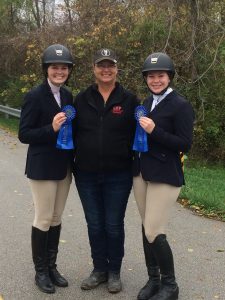 Showing is highly recommended for our members, however, it is NOT required. IHSA shows are a lot of fun, and all the members who show have a great time. It also provides riders with the opportunity to get to know fellow riders and great showing experience at a very low cost.
What should I wear to lessons?
Each member should have their own helmet for lessons and shows, as well as boots that have a heel. Half chaps and breeches for hunt seat riders are recommended for lessons. Tank tops are not allowed during lessons. Jeans are allowed, however make sure you can comfortably ride in them!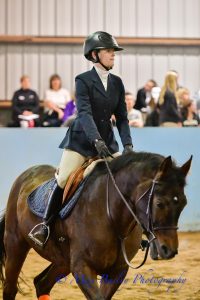 For shows, hunt seat riders will need a helmet, hairnet, hunt coat, show shirt, gloves, belt, breeches and tall boots. Don't worry if you don't have any of these items – we can direct you to local tack shops or borrow show attire among members. You can also find inexpensive deals on eBay or at tack consignment stores.
Where is the barn?
We ride at Sierra Woods Farm at 150 N County Road 1100 E in Zionsville, IN 46077 which is about 30 minutes north of campus.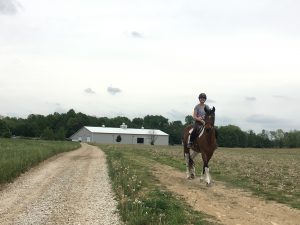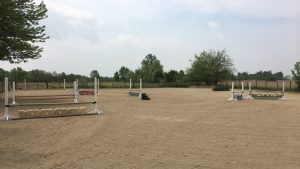 Does the club do anything besides lessons and shows?
We also like to do events where the team gets together and gets to know each other. The first event we do is before the first show. We get pizza and make Tie-Blankets for each other. New member of the team get a complimentary tie blanket while everyone makes blankets for Reilly Children's Hospital. We also have a Christmas party every year and a banquet at the end of the year. We try to meet before every show, but what we do changes every year. While it is highly encouraged that you attend these events, it is not required, but it is a lot of fun.