BUCE is currently a hunt seat team and competes both over fences and under saddle. However, riders with experience in all disciples are welcome. Every student has the opportunity to show and represent Butler University at the Intercollegiate level!
What is hunt seat?
Hunt seat is one of the classic forms of forward seat English riding based on fox hunting.
How do IHSA shows work?
At intercollegiate horse shows, riders select horses randomly before each class from the draw bucket. There is no warm up time given to riders after the draw is complete, but riders are able to watch coaches/trainers warm up each horse before classes start.
What level classes are available with IHSA Intercollegiate Shows?
IHSA  has classes for all riding experiences. The levels for flat classes are walk trot, beginning walk trot canter, advanced walk trot canter, novice, intermediate, open, and alumni. For over fences classes, the divisions are novice, intermediate, open and alumni. Novice and alumni fences are set at 2'3″, intermediate fences at 2'6″, and open fences at 2'9″. Level for competition is to be determined by our coach.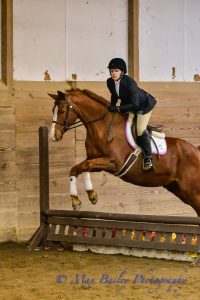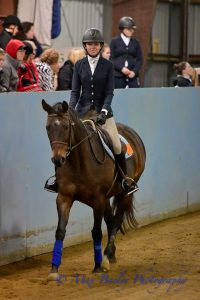 Photo credit to Max Bailey Photography