Well that didn't go as planned…Unfortunately due to the ever grumpy COVID-19 the season was cut short, too short. When all players left for spring break in early March we said our "see you later" assuming we would see them in a week or two, this would not be the case. Butler University moved to online schooling during spring break and the 2020 roster's last words of "see you later" turned into "goodbyes" pretty quickly. Shortly thereafter the NCVF cancelled their annual national tournament that was scheduled to be hosted in Kansas City on Easter weekend. The club and all of its members are very sad to have their season cut short. Sometimes that is just how the cookie crumbles and instead of letting it get the best of us we look forward to next season and becoming better students and athletes as a result. With that being said we want to extend a huge thank you to our two seniors for their countless time they have spent with the club.
Brad Herzog- A swiss army knife of a player who was always ready to practice. Brad, better known by some as "baseball bat Brad", was a student of the game for all four years of college volleyball. He learned a lot and grew as a player. Men's Club Volleyball reaches out a big thank you to Brad for his commitment.
Johnny McDonald- The backbone of the team for the past few years Johnny will be next to impossible to replace. President of this club his sophomore year Johnny was vital in sending Butler to its first national tournament as well as mentoring incoming presidents for their terms. All-conference honoree a few times, "Johnald" will also be tough to replace on the court as well. Johnny has anchored the outside position for this club for plenty of years and even lived out his volleyball dream when he set for an entire tournament this year. Rumor has it he sent a mix-tape of his highlights coming in as a freshman, now that is dedication!!!! Johnny moves on to to take his CPA exams this summer and we are rooting for him as he has always rooted for us. We might miss most his countless miles on the red Toyota Rav-4 but I am sure we will find a new road trip vehicle. Below is a picture of Johnny, what a beautiful human!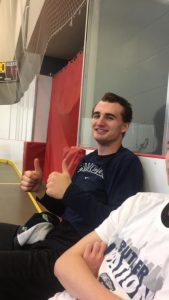 THANK YOU SENIORS AND BEST OF LUCK MOVING ON!
To wrap up this post I would like to welcome our new officers. I know with good faith that they are eager and excited to carry on the Butler Men's Club Volleyball ways!
President- Alex Reinke
Vice President- Henry Weinberg
Treasurer- Mitch Hoelscher
Social Media Chair- Nathan Carnes
Best of luck to them in 2020-2021, the club is in great hands!